Now that Fall is here, the days are getting shorter, and bicycle safety lights are becoming more important for morning or evening bicycle riders. This is especially true for children's bikes because they are smaller and can make unexpected changes of direction suddenly. You don't want to get hit on your bike and you don't want your kids to get hit on their bikes. One of the best ways to prevent accidental collisions is to put bicycle safety lights on all the bikes in your control or your area of influence.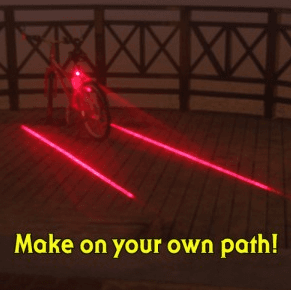 ​
There are many types of bike lights available today that improve visibility during dark hours. Shown below are a few samples that I found on the internet.
This first sample consists of a battery-operated unit that screw-clamps to the frame under the seat. It creates two straight lines beside and behind the bike so that drivers have a graphical idea of how far to stay away. It also contains 5 red LEDs which can be seen from a long distance, even under street lights and headlights. You can take a closer look at it by going to this link on eBay.
​
This second type of light is attached to the wheels and it illuminates them instead of lighting the road surface. Each wheel changes color as the speed of the rider changes. They go from red (when slowing down) to white (when at cruising speed) to attract the attention of anyone nearby. You can see more images, watch an excellent video, or get additional information at this link.
The final example illuminates the frame of the bike. It consists of four flexible strips of waterproof LED lights that are wrapped around the frame and secured with Velcro. There are two sections of 12 white LEDs for the front fork and two sections of 9 red LEDs for the rear. The bike will be visible from a long distance since the LED lights project up to 60 feet in front and 40 feet to the side. You can see more at this link.
​
These are only a few samples of the many types of bicycle safety lights available, and they can be found at every price level. SuperFrye Guy says please be sure to put some kind of safety lighting on every child's bike.